London Gardens Network Seminar 2017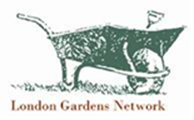 The Urban Jungle: a survival guide
 
London Gardens Network Seminar 2017
 
Friday 17th March 9.15am-4pm
 
The Banks Building, Royal Botanic Gardens, Kew
 
Book now to secure your place at the LGN conference, taking place this spring!
Tickets are now available for London Gardens Network's exciting networking and plant-focused conference. Taking place once again amongst the beautiful surroundings of the world-renowned Royal Botanic Gardens, Kew, it will be the perfect opportunity to get out of your own garden, hear new ideas and be inspired. We have a larger capacity than normal, so why not introduce someone you think would enjoy the network, or bring along a keen apprentice?
 
This year's seminar will be focusing on the challenges facing our gardens today, including how biosecurity can help us. We will have a fantastic range of speakers as usual. Bartlett Tree's head scientist, Glynn Percival will take us through the current pests and diseases threatening our trees; Ian Wright from the National Trust, alongside David Slawson from OPAL (Open Air Laboratories network), will describe the best methods to ensure biosecurity in your garden, and Sven Surfeit will regale us with tales of his very unique urban jungle, London Zoo. New chair of the London Parks and Gardens Trust, and Head of Landscape and Horticulture at Wakehurst Place, Ed Ikin will be rounding out the day, discussing wildlife gardening. The day will be chaired by Tony Kirkham, Head of Arboretum, Gardens and Horticultural Services at the Royal Botanic Gardens Kew.
As always the seminar is a great opportunity to network with fellow professional gardeners and there will be ample time to catch up with friends and colleagues and look around the beautiful gardens, perhaps visiting the establishing borders and topiary along the Broadwalk. The conference will finish at 4pm allowing you an hour to explore before the Gardens close at 5pm.
Tickets will cost £50 with a reduced £25 rate for students. The price includes tea, coffee, homemade cake (from Roots and Shoots) and a picnic lunch. Book now, remembering to state any special dietary requirements.
To continue to get up to date details from us please register now online at http://www.londongardensnetwork.com/ if you haven't already done so.
You can book via www.londongardensnetwork.com and follow payment instructions on the bottom of the form
If you would like a PDF booking form please contact Fiona Crumley at [email protected]