The Historic and Botanic Garden Trainee Programme began in 2006, with an aim to ensure that the skills needed to work in a historic or botanic garden were passed on to those passionate and committed to a career in horticulture.
The Programme:
The HBGTP provides full time paid work (minimum of national living wage) as a trainee gardener in a UK historic or botanic garden, placements last 12 months and start in September each year.
Specialist on the tools training is combined with written projects, plant idents and a daily journal.
You can apply from the start of March 2020, via this website. Anyone over the age of 18 is eligible to apply but must be able to demonstrate some prior paid or voluntary experience working in the horticulture sector.

Update

HGBTP Trainee Position Available at Rowallane Gardens!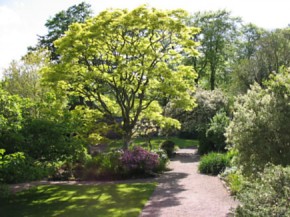 An opportunity has come available to become a HBGTP Trainee at Rowallane in September 2019.
Rowallane is a naturalistic rocky landscape consisting of 52 acres of plantsman's paradise, with rarities around every corner. It has both formal and informal areas, and has a very different seasonal rhythm to formal gardens. You will gain experience in propagation, pruning, planting, preparing beds for planting, as well as in maintenance work such as mowing, strimming, hedge cutting, weeding, and path maintenance.
If you would like to apply please click the box below, applications close 15th July 2019.