Trainee Rosie at Ness Botanic Gardens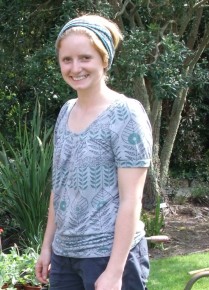 HBGBS Trainee Rosie Rosie was a contestant in Young Horticulturist of the Year, and wants to stay at Ness Botanic Gardens for as long as she can. Here she answers questions about her motivations, her placement, and where this has led her.
What made you choose horticulture and not an indoor job?
I love the outdoors, I did try out working in an office but spent a lot of time looking out of the windows wishing I was working with the gardener so I left. There is nothing more rewarding than seeing people appreciating the hard work you have put into your garden or just seeing a plant that you have cared for thriving.
What do you enjoy most about being a professional gardener?
I enjoy working with plants and people in the outdoors. I like feeling exhausted after a hard day's work when you can see the difference you have made in the area you have been working on. I really love working with enthusiastic plant people as it inspires me to learn more and push myself.
What was the thing that surprised you most during your placement?
The sense of team work within both the gardening teams that I worked with. I am continually surprised by plants and the stresses they survive despite what some books might say. I was also surprised at how enthusiastic many of the visitors were about plants and how many questions I have been asked. One brilliant event that surprised me but made me really happy was overhearing a 6 year old on a school trip telling his teacher the Latin name for a plant that was in the bed I was working in.
Where do you think you will be in 5 years time?
In a garden somewhere beautiful! I would like to be contributing towards wider society by working in plant conservation and/or making horticulture and botany available to everyone.
Rosie comments on her BBC 3 Young Gardener of the Year experience
I was recently lucky enough to get through to the final 20 gardeners on BBC 3's young talent of the year. It was an interesting experience. Through the earlier stages I had to undertake a written test and an interview/ screen test with a horticultural expert and a couple of the producers. There were huge cameras pointing at me, I was quite nervous and in my haste to get out of there I forgot to unhook myself from the microphones and got all tangled up. During the second stage we all had a seed and bulb identification test and a practical test to design a late summer planter. It was a great experience meeting all the young gardeners and hearing about their experiences and sharing in their enthusiasm. It was also a great networking opportunity and I did cheekily, manage to ask rather a few people whether there were any jobs going in their gardens. We did spend a lot of the day doing re-takes of walking purposefully through doors, which was quite funny and not something I have ever really thought about going on behind the scene before. I was lucky enough to be picked to be interviewed with the blue peter gardener and the RHS events organiser and got to talk with them about the challenges facing horticulture in the UK today and ways of encouraging young people in to horticulture. We also got free sandwiches and crisps! All the 19 other contestants were great and I wish the four finalists all the best for the next stage of the competition.