"The HBGTP ticked all the boxes for me" Jacqueline Hall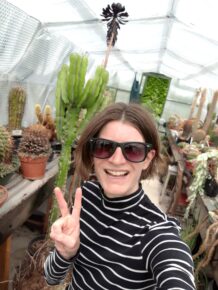 Jacqueline Hall completed her 12 month HBGTP placement at Ness Botanic Gardens before becoming Aberglasney's 2022 Student Bursary winner. She shares her experiences and highlights of her placement below.
Why did you choose the HBGTP, potentially over other training avenues?
HBGTP offered me the opportunity to be immersed in a garden across all the seasons, gaining practical experience from an established team. As I've had various jobs focused on working with people (such as managing volunteers) I also really wanted to be in a garden open to the public. The support from the HBGTP team plus the structured coursework meant the scheme ticked all the boxes for me.
What horticultural training or experience had you completed before joining the course?
As well as my own gardening and tending to houseplants I spent a year volunteering one day a week in the garden at Ordsall Hall, Salford. I was enthusiastic but to be honest my experience was fairly limited. Training through HBGTP was exactly what I needed to take the next step and although it was a big change in direction, I quickly felt certain I'd made the correct choice for me.
What activities have you enjoyed the most?
Learning from the team in my placement has been very enjoyable, with so welcoming and keen to share their knowledge. As a botanical garden, Ness has a huge plant collection and so spending a year in the gardens has massively improved my plant identification knowledge. Some people might even accuse me of being a bit of a plant nerd. The study tours were invaluable and opened my eyes to different styles of garden and approaches to horticulture, which have helped sharpen my focus as I continue to develop my chosen career as a gardener.
Are there any projects you've worked on this year that you are particularly proud of?
At Ness I supported the design, planning and planting up of a new herbaceous border featuring prairie plants. Receiving compliments from visitors to the gardens was a good feeling, knowing that all the hard work brought joy to others.
What has been your standout moment from your training year? Or what have you valued most about your training year?
The practical, on-the-tools training has been invaluable and is a solid foundation for my horticulture career.
How has this course prepared you for the next step in your career?
I'm now on a 12-month traineeship at Aberglasney Gardens, where I'll continue to develop my skills in a different context. My HBGTP training gave me the confidence to jump straight into the team.
What recommendations would you make to future trainees or anyone considering the course?
Go for it! Horticulture is a varied and welcoming industry. The skills gained are a solid foundation to open up doors for a range of careers in the horticulture and green sectors. From visiting other gardens I've found that HBGTP is a well-respected scheme within the industry.