Kate Evans – from allotment to Chatsworth House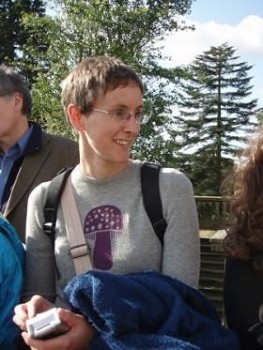 HBGBS Trainee Kate Evans became interested in a career in horticulture after working on her allotment. Here she talks about the learning opportunities afforded by her placement at Chatsworth House.
What got you into horticulture?
I've always had an interest in gardening, but I guess it was my allotment that really made me consider horticulture as a career. Having spent 10 years working in different jobs because I didn't know what I wanted to do, I finally started doing some voluntary work at a local garden. This made me realise that horticulture was definitely what I wanted to do, but of course there is always the problem of lack of experience if you are completely changing careers. I wasn't sure if I'd gained enough experience to even get onto the HBGB scheme, but I'm so glad I applied because I haven't regretted leaving my job one bit.
How has a practical placement improved your understanding of the industry?
This practical placement has been fantastic so far. It has enabled me to experience so many different aspects of horticultural work, from the intricate to the monotonous. It has given me the chance to discover what I like and dislike about horticulture and given me plenty of food for thought as to what kind of work I'd like to end up doing in the future.
What have you enjoyed most about your time at Chatsworth?
I think what I have enjoyed most about my time at Chatsworth (so far) is having the opportunity to really get to know the garden and try and get to know all the plants that are grown here. When you visit a garden once you only get a snapshot of it as it is continually changing. However working in a garden gives you the experience of seeing it change through the seasons, and of course you have far more time to really enjoy each bit.
What do you like most about working with the team?
I suppose the most enjoyable aspect of working with the gardening team at Chatsworth is that I have picked up knowledge from the gardeners. Not everyone has great plant knowledge but everyone has their own interest so whether it be learning about driving tractors or grafting apple trees, I find that I learn something new most days.
Where do you think you will be in 5 years time?
In 5 years time, I guess I'd like to be working as a horticulturalist in a beautiful garden. I still have a lot to learn and haven't yet made my mind up whether I'd rather work in a botanic, historic or private garden. I do however know that I eventually want to at least become an assistant head gardener, if not a head gardener of a small garden.