Jonny Bruce's International Adventures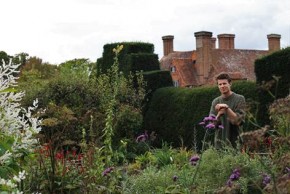 Jonny is our HBGTP trainee at Great Dixter (2014-16). He has certainly made the most of his time there!
"The HBGTP has given me the opportunity to spend two years working in one of the world's most exciting gardens. I have been able to foster a love of plants, learn skills and gain experience that you could never learn out of a book. The study blocks have allowed me to meet a bunch of interesting people and the qualifications the scheme provides are an added bonus. Following studies at university, the chance to continue learning, and to be paid to do so, seemed like an amazing opportunity. I would encourage anyone to consider the HBGTP as the best way to enter a rewarding and stimulating profession.
"This learning has been backed up with extraordinary opportunities to travel abroad. Last year I gained funding from the Merlin's Trust to travel to Turkey to see the wild flowers of Antlaya, as well as two weeks' work experience at Chanticleer Gardens in the United States (funded by the Great Dixter Bursary)."