Joanne Parker Escapes the Dispensary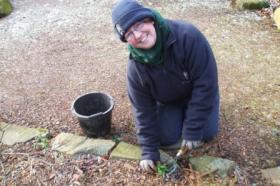 Our Wentworth Castle Trainee Joanne Parker talks about moving from a career in pharmacy into gardening and horticulture.
Where were you born?
Wigan, Lancashire
What made you chose horticulture?
Following nearly 10 years as a pharmacist, I decided to break out of the dispensary and into beautiful landscapes as my place of work. I don't recall horticulture ever suggested as a career option and I doubt as a 17 year old I would have realised the potential. From getting my own house my pleasure in all things green increased. I progressed from propagating on the windowsill to a green house and allotment. Once I'd run out of room I volunteered at my local National Trust Garden, Beningbrough Hall. When I realised I enjoyed my unpaid days there more than my other days I decided to make a permanent change to enjoy every day. I started on a course at college whilst continuing to work at Beningbrough as a Seasonal Gardener. I'm now working at Wentworth Castle as part of the HBGB scheme and have never looked back. Pharmacy seems a lifetime ago and I feel so privileged to work in some of the most beautiful landscapes in the country – and it's only year 2 of my horticultural life!
What do you enjoy most in your daily routine?
The variety has got to be high up there, no two days are the same and there are always new things to learn, about the plants, machinery or challenges to solve. Also it's the moments when I stop and look up at the deer grazing and amazing view or a robin hopping nearby and think 'I'm getting paid for this'!
What do you dislike the most?
So far nothing – even if working on a job you don't necessarily love – like spreading manure! The banter and team spirit make it all the more pleasurable. The weather has never really been a problem so long as I've got the correct clothing with me, but I think you have to be the kind of person who is happy to be outdoors in all conditions. My family now know to buy thermals for Christmas!
Where do you think you will be in 5 years time?
I'd like to think I'll finish my course and gain permanent work as a gardener in the heritage sector. Who knows how that will develop, but with the right skills and experience my hope would be to one day be Head Gardener of a beautiful estate – maybe in 10 years, not 5! Whatever I will be doing I know I will continue to enjoy the little moments each day, enjoy a healthier outdoor and active lifestyle, laugh with my team mates and still enjoy helping things grow and flourish!