"It has set me on a new path" Daniel Liston, Wrest Park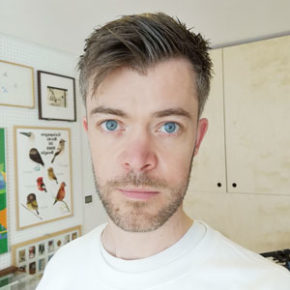 Daniel Liston shares his experience of training with the HBGTP, his interest in horticulture and his future career aspirations.
Why did you choose the HBGTP, potentially over other training avenues?
Following my decision to explore a career change from architecture I was looking for a full-time training and work role that would allow me to gain plant knowledge and wider gardening skills to prepare me for a gardening role. The HBGTP jumped out as an incredible opportunity to work in a heritage setting under a true Apprenticeship programme to allow me to develop within a supportive team.
What horticultural training or experience had you completed before joining the course?
I had recently completed a section of the RHS Level 2 qualifications and was working in a plant shop in London. I had also been volunteering at Peckham Rye Park for some time and working in several private gardens at weekends. Before I had been to University, I had worked at a garden centre and had kept in touch with some of my friends who had pursued a career in horticulture.
What activities have you enjoyed the most?
The broad range of gardening works from propagation to routine pruning taught me a lot about different plants and how to establish and keep them healthy and in good shape. In the run up to a television feature I really enjoyed the planting out large numbers of ferns in an area of the garden with a historic stone cascade. In another area of the garden I learned a great deal about woodland trees and symptoms of issues resulting from age or disease. Finally, the trainee seminars were a hugely beneficial experience to both see and learn and building a network with other HBGTP and the PGG students.
Are there any projects you've worked on this year that you are particularly proud of?
I felt particularly motivated by my first study project on tree succession. It evolved over time from a wide scale register of all-American trees to a selective study of a single significant tree. I learned about the tree itself, the historic setting and the possible propagation techniques and mature tree management.
There have been a number of planting and grounds projects that I have enjoyed being a part of, these included planting of the wildflower meadow in the pear orchard and the seasonal bedding changes in the Parterre and Italian Gardens. I also enjoyed the cleaning and clearing of the historic Conservatory which improved the light and access in and around this beautiful space.
The Careers Project was a valuable experience and gave me the time to consider what and where my next steps might be. I was able to research various organisations and places and to write detailed Applications. It also gave me the time to make contact with several inspiring individuals in the industry who gave me insight and motivation.
What has been your standout moment from your training year? Or what have you valued most about your training year?
The most valuable part for me was the gradual plant knowledge that has developed. Working around a range of plants and changing displays gave me regular chance to question, learn and study. Working outside every day also allowed me to see the seasons gradually shift and see what was emerging and fading at different times. The weekly Idents were an interesting and rewarding challenge and introduced me to a range of Families, Genus and Species of plants.
Something that had driven me to embark on the course had been a desire to understand the natural world around me. The course gave me colleagues and a role to begin to understand so much about natural and design landscapes, trees and plants. I feel that I have strengthened my interest by taking the first important step and look forward to building on this last year.
The responsibility to learn to use a range of tools, equipment and vehicles encouraged my common sense and rational thinking which has helped grow my confidence in a number of ways.
How has this course prepared you for the next step in your career?
The course was the perfect preparation for my next step. The combination of woodland and ornamental gardens at Wrest Park were an ideal alignment to my new role at the Royal Hospital Chelsea. The training using tools, equipment and vehicles including maintenance were a great benefit. The opportunity to undertake both my tractor license and sprays training were also both big advantages to have on my CV.
The support I got from my colleagues while on the course were also fundamental in building my confidence and giving me the encouragement to be ambitious in planning my next step. The community of my fellow trainees also continues to be a support as we take our next steps and is something, I am grateful for. I embarked on the HBGTP course to give myself a real-life test to see if I had the temperament and physical strength required to be a professional gardener. I feel it was both a good decision for me and has set me on a new path.
What recommendations would you make to future trainees or anyone considering the course?
It is a life changing opportunity. It will give you not only a great work experience in a beautiful place and hopefully be the first step in a new career. It offers a supportive base so make the best of the opportunities that present themselves and feel comfortable to ask for any further opportunities. Take each day as it comes and do not feel rushed or pressured. Everyone is on your side and wants you to get the best from it. You will get to work with talented colleagues and meet well connected people who know the industry and can help you see what you might be looking for.
Finally, take the time to enjoy the gardens you work in as often as possible, whether it's before or after work or during your breaktimes, just look around and take a moment to absorb it all.