Helen's passion for historic gardens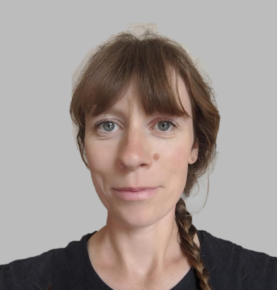 Helen Lindley shares how her interest in historic gardens and her desire for a career in horticulture lead to her applying for the HBGTP. Helen completed her 12 month placement at Chatsworth House.
Why did you choose the HBGTP, potentially over other training avenues?
I chose the HBGTP because I wanted to learn and study while working within a garden, alongside professional gardeners. The scheme also appealed to me because it focusses on historic gardens.  I had studied history previously and the scheme seemed to marry my two passions really well. I was also interested in how large public gardens operated and whether they would be an environment in which I would thrive.
The scheme appealed to me over others because of the prestige of the placement gardens and the reputation of their teams. I wanted to learn in an environment where the standards would be very high and where I knew that the skills, I was learning were relevant. A large estate provides a lot of variety to ensure a broad breadth of experience.
What horticultural training or experience had you completed before joining the course?
Before I started the scheme, I had gardened at home and shared an allotment for a couple of years with a neighbour. In the year leading up to applying, I made an effort to gain meaningful experience, volunteering in two local historic gardens.  One of these roles, later led to me working three days a week in their nursery. I didn't have experience of professional power tools or equipment due to the voluntary nature of the positions I'd had.
I had enrolled onto a weekend RHS Level 2 Practical course and was studying online with RBGE towards my RHS Level 2 theory exams. Attending college and studying had made me realise how much I enjoyed learning about plant biology and binomial plant names and further fueled my desire to make horticulture my career.
What activities have you enjoyed the most?
Everything! I can honestly say that I enjoyed every day of my placement at Chatsworth. It was such a fantastic experience, and a great learning environment, that I felt that I learned something new every day. I have loved being able to be part of some big projects, such as planting up the new Rose Garden, designed by Tom Stuart-Smith. I've equally enjoyed days weeding through the borders, identifying plants and talking with the other gardeners about the garden and gardening!
Are there any projects you've worked on this year that you are particularly proud of?
I'm really proud of my project designing and maintaining the Cottage Garden.  I worked on it with the garden volunteers over the course of the whole year. The plot was approximately 100m² and my brief was to design and plant it for a spring and summer display. It gave me experience of garden design, project management and a space in which to observe plants very closely practising craft garden skills. The end result was something I was very proud of and I learnt a lot from the process.
What has been your standout moment from your training year? Or what have you valued most about your training year?
My most stand out moment was visiting the home of John Sales, former head of gardens for the National Trust, to lift and divide part of his collection of Galanthus. John has built up a collection of over 250 cultivars and wished to donate a large number to Chatsworth.  It was inspiring to see how passionate and knowledgeable he was about the collection. On returning to Derbyshire, I was part of the team that planted them out throughout the garden. It was interesting to see the project from start to finish, caring for the plants in transit, recording their new locations and planting them out. It was great to be part of creating a lasting legacy that will bloom for years to come. I'm looking forward to returning to see them in the spring.
I've most valued the time working alongside the garden team from day to day. Everyone I worked with was so generous with the time and knowledge. The conversations we had during the day while working, about the garden, plants, their previous gardening experiences, were all invaluable. I'm really grateful for all their support and encouragement.
How has this course prepared you for the next step in your career?
Yes, undoubtedly. I felt confident to step into a gardener role within a historic garden. This confidence came from the 'well rounded' nature of the training I'd received in plants, craft gardening skills and equipment certification, but also from the understanding I'd gained of how a historic garden operates and how the garden team operates within it. It also helped me see what roles are available and how I might like to progress in future.
What recommendations would you make to future trainees or anyone considering the course?
I would encourage anyone thinking of applying to go for it.  I wouldn't hesitate in recommending it to anyone, it's one of the best things I've done. There isn't one type of person who does the scheme. My fellow students were all very different and had come to gardening through lots of different routes, at different times in our lives, but we all shared a passion for gardening, and wanting to make it our career.
I would advise future trainees to embrace all the opportunities that arise during their year as a trainee and be open to learning. Every day there is a chance to learn something new.