From HBGTP trainee to Senior Plantsman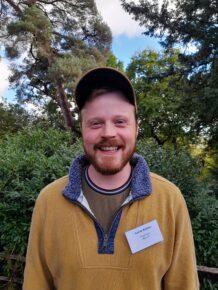 Aaron Belcher completed his 12-month HBGTP placement at Tregothnan before successfully landing his new role as Senior Plantsman. He shares his experience and highlights below.
Why did you choose the HBGTP, potentially over other training avenues?
The structure was the most important element to it. Knowing that there was also a support system in place made it feel less daunting, albeit intense with the amount of work.
It gave me a reason to really delve into what I wanted to learn horticulturally, and fill the gaps that I felt I missed, especially in a practical sense.
What horticultural training or experience had you completed before joining the course?
A Foundation Degree in Horticulture at Nottingham Trent University. I worked as a Gardener at a local community garden in Nottingham – Arkwright Meadows Community Gardens.
I also set up my own Community Garden in Nottingham called Friends of Lindum Grove, turning a disused space into something reimagined and utilised by the local community.
What activities have you enjoyed the most?
There's too many to say! But if I HAD to pick; propagation and creating a mist unit – taking responsibility of the polytunnels to ensure a more efficient operations.
What has been your standout moment from your training year? Or what have you valued most about your training year?
I have valued the amount of input and energy from my Head Gardener and the support from those on the HBGTP. All of my learning and what I have achieved this year wouldn't have been possible without any of them. The passion and infectious enthusiasm of others – including other HBGTP trainees have aided in my learning, my continual development and all of these wonderful humans have helped shape me this year.
How has this course prepared you for the next step in your career?
The dramatic changes in weather and environments and working conditions have prepared me for almost any situation. The plant identification in particular, I feel, has been one of the most important too – it alleviates a lot of imposter syndrome, excites me to learn more plants and has aided me in my new role as Senior Plantsman at Tregothnan to know the plants of the gardens, and map them. Overall, the abundance and varied tasks throughout the year have given me plenty of skill sets to move to any other gardens and feel more than competent to take on any role.
What recommendations would you make to future trainees or anyone considering the course?
Inch by inch is a cinch. Make little notes little and often and take photos every day as there will inevitably be days where you get home and don't want to write anything up and that is fine – if you need time to rest, recover, enjoy the other parts of your life like talking to friends, practicing hobbies and recharging then do so – those photos help you remember what it was you hadn't written yet.
Take full advantage of the year too, and ask questions of those on the programme, because the year goes quickly!