From Aldourie to Germany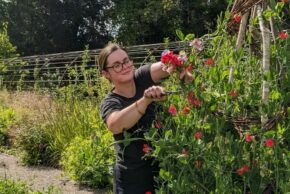 Genevieve Slater has spent her 12-month placement working in the beautiful gardens at Aldourie Castle, during which time she was given the opportunity to visit a number of interesting gardens in Germany, all thanks to the HBGTP bursary. She has shared her experiences of her trip below.
Why did you want to go to Germany?
I was inspired to visit Germany thanks to an interest in German practitioners and designers instigated by my Head Gardener at Aldourie, Elliott Forsyth, and a pre-existing enthusiasm for naturalistic planting.
Having been introduced to the work of Cassian Schmidt, his wife Bettina Jaugstetter and German approaches to perennial public planting, including mixed planting systems and plant sociability, I was keen to see examples of it in real life to observe not only its design, but also the maintenance, practicalities and approaches involved in its upkeep. I believe you learn a huge amount from experiencing a planting directly, much more than just viewing online or in books.
I also discussed naturalistic planting styles and mixed planting systems as possible future options of improving the sustainability and maintenance of ornamental plantings. This was in relation to climate change and biodiversity loss in the UK in my first HBGTP student project 'Exploring current naturalistic trends with a view to discussing challenges concerning sustainability, biodiversity and maintenance within ornamental horticulture' research which, alongside this trip, will inform my third student project, a planting design project, providing inspiration as well as practical information.
I also was able to include on the itinerary a visit to see an example of public planting design from Piet Oudolf, a key practitioner in naturalistic design and a figure who has been extremely influential to the gardeners I have trained alongside throughout my horticultural journey thus far.
What gardens did you visit?
 Vitra campus, Weil am Rhein, Germany; a recent planting designed by Piet Oudolf at the Vitra design museum. In my first project I discussed how he, and his style of working, were instrumental in our shifting perception of ornamental herbaceous plantings and at the forefront of the naturalistic style.
Schau und sichtungsgarten Hermannshof, Weinheim; a 'show and trial' garden, which was, until recently, under the directorship of Cassian Schmidt. The garden is known for researching and displaying examples of plant communities, mixed planting schemes and promoting a forward-thinking approach to maintenance as well as a rigorous, ecological approach to planting design. Again, this garden was referenced as a case study in my first project.
Hauptfriedhof, Ludwigshafen; an example of naturalistic planting at a public cemetery designed by Harald Sauer and championed by Cassian Schmidt.  I was also able to see further examples of Sauer's public work at Ebertpark and the WLB building adjacent to the cemetery, both also in Ludwigshafen. These kinds of public planting are unlike those stereotypically found within the UK in easily accessible, public areas and were particularly inspiring.
BUGA 23 (German National Garden Show), Mannheim; is a garden show with a focus on sustainability, climate and conservation. Also, within the site were expansive plantings by Bettina Jaugstetter and further examples of naturalistic planting design.
What were the benefits of you going?
It confirmed my interest in naturalistic planting and my intention to pursue this style and approach in my horticultural career; an exciting opportunity to experience it immersivity and in real time which helps me place myself within the world of horticulture and figure out the kind of gardener I would like to be.
I observed the range of styles and approaches which fit under the umbrella term of 'naturalistic' thus allowing me to expand my range of understanding and toolbox for future applications. I also observed intimately the work of several practitioners I admire, particularly of interest was how plantings develop and change over time from their original design (often able to be viewed online or in books) vs the reality of a design after time has passed thanks to the level of maintenance it has received. Interesting to compare the two and discuss the amount of dynamic evolution allowed to take place.
I consolidated knowledge gained from my first project and allowed me to see case studies I had researched in depth in real time. It provided the opportunity to gather inspiration and improve my plant knowledge. It also provided further opportunities to research and gather material (images, handouts, information) unavailable offline.