Frances moves onto Brodie Castle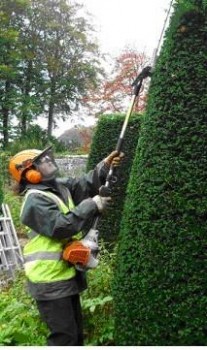 HBGBS Trainee Frances had a hugely successful year at Threave. She is now looking forward to getting stuck into her new job at Brodie Castle in Moray.
What made you choose horticulture and not an indoor job?
I have always wanted to work outdoors as I enjoy working in the fresh air and being in touch with the natural world. Having temped in various offices I knew that work indoors wasn't really for me although on a cold, wet day in winter an office does seem very inviting. I originally chose to work in conservation but moved in horticulture to improve my job prospects and because I discovered that I really enjoyed growing vegetables and flowers.
What do you enjoy most about being a professional gardener?
What I enjoy most about being a professional gardener is the challenge of creating an attractive, exciting and productive garden in a way which benefits wildlife and minimises harm to the environment. I also enjoy the fact that every day is different with new problems and opportunities as well as new skills to learn and plants to discover.
What surprised you most about your placement?
What surprised me most about my HBGBS placement at Threave was how much the garden benefited from the project work I carried out. I was able to carry out research and surveying work that the other garden staff simply did not have time to do which made the presence of a HBGBS trainee particularly valuable for the garden. Two of the projects I carried out, drawing up a management plan for an orchard and surveying and mapping a daffodil collection, were particularly useful for the garden and will contribute to the conservation of important parts of the plant collection at Threave. The daffodil project also helped me to secure another position with the National Trust for Scotland (NTS) at a property with an important daffodil collection.
 Where do you think you will be in 5 years time?
I am just about to start a new job with the National Trust for Scotland at Brodie Castle in Moray which is a very exciting opportunity as the garden is more or less a blank canvas with lots of potential. In five years time I hope to still be at Brodie having helped to create an attractive, exciting, inspiring and productive garden that really draws in visitors.