Eve Worrall day-dreamed of a job growing plants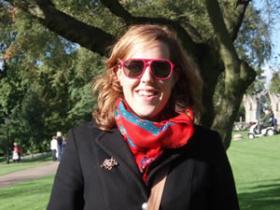 Eve Worrall gained a placement in Trebah Gardens, Cornwall. It's a far cry from her office job, as she explains:
What made you choose horticulture and not banking?
I was working in an office and spent my time staring out the window watching an old man potter around his immaculate allotment. This made me start thinking how great it would be if I could get paid to work outside and grow stuff! So I decided to hand in my notice and do a National Diploma in Horticulture.
What do you enjoy most in your daily jobs?
Just being outside working in a beautiful garden
What do you dislike the most in the potting shed?
Cold numb hands!
Where do you think you will be in 5 years time?
I want to have travelled and worked in different gardens around the world and then who knows what path that will lead me down, hopefully enjoying working in a lovely garden.
Update: you can find if Eve achieved her ambition here.