Ellis loved the whole year!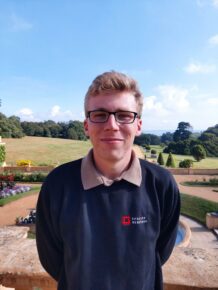 Ellis Gant completed his 12 month HBGTP placement at Osborne on the Isle of Wight. He shares his experience of his placement below:
Why did you choose the HBGTP, potentially over other training avenues?
It gave me the chance to spend a year gaining practical experience in a historic environment with the opportunity to learn new skills first-hand from the gardeners.
What horticultural training or experience had you completed before joining the course?
Level 2 City and Guilds diploma in work-based horticulture at Ventnor Botanic Garden.
What activities have you enjoyed the most?
Working on the spring and summer bedding, understanding and appreciating the work that goes into producing stunning visual displays. Mulching beds and borders using compost produced on site- very satisfying! Using machinery on a regular basis. Helping with various pruning throughout the year – Roses, Vines and Wisteria on the terrace to the espalier apple and pears in the walled garden. Loved the whole year!!
Are there any projects you've worked on this year that you are particularly proud of?
Designing a section of the walled garden with annual vegetables and flowers, thinking of design and of period correctness. Despite the heatwave the design mostly came to fruition. Helping to continue the replacement of wooden edging with metal edging at the Swiss cottage gardens.
What has been your standout moment from your training year? Or what have you valued most about your training year?
Learning from experienced gardeners first-hand. Plant identifications with the head gardener were also immensely valuable to increase plant knowledge and learn more about the history of the site.
How has this course prepared you for the next step in your career?
I was able to increase my practical experience and improve confidence with various tasks. The research projects and plant identifications have prepared me well to continue study at the RHS.
Spraying training was useful where most employers ask for this ticket.
What recommendations would you make to future trainees or anyone considering the course?
Take the chance to appreciate and reflect on the work you have achieved as a year goes by very fast!